'Torpedo' carrying £4m of cocaine found on beach
Cocaine with a street value of ?4.4m has been found inside a 6ft-long "torpedo" metal tube on a beach in Ireland. The drugs weighing a total of 75kg were discovered after a tip-off about a suspicious item on the shore near Liscannor in County Clare, customs officers said. Dozens of 1kg bales of cocaine, each about 1ft long, were wrapped in plastic and placed in the tube.
It was found near well-known surfing spots and the popular tourist spot, the Cliffs of Moher.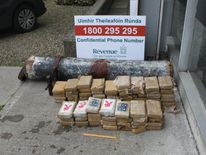 Image Caption: Authorities display the drugs haul
Ireland's Revenue Customs Service said the "torpedo-type device" may have been attached below the waterline of a cargo ship or another ocean-going vessel. But a spokeswoman said: "It is not possible at this stage to say either where the drugs originated or their intended destination." Officials have said the tip-off was made through the "Customs Drug Watch Programme".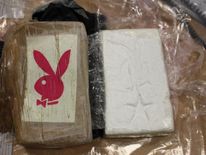 Image Caption: The drugs were discovered near the tourist spot, the Cliffs of Moher
The initiative encourages those living in coastal communities and near airfields, as well as maritime personnel, to report unusual or suspicious activities to the Revenue Customs Service.
The spokeswoman also said that investigations were continuing.