Two Cool McCool – Air Cargo News.com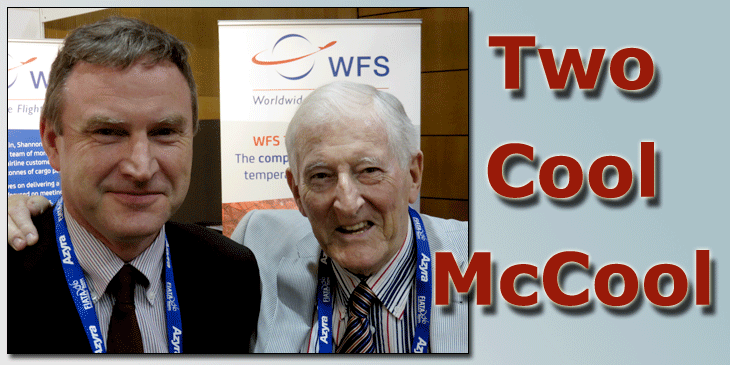 (Dublin Exclusive)McCool's Yesterday & Today have been a constant of the Irish air cargo scene for more than 65 years.
Sean McCool (R) is pictured with his son Ian at the FIATA World Congress last week in Dublin.
Among other achievements, Sean McCool is a true pioneer of air cargo in Ireland.
Established by Sean in 1989, International Airlines Marketing Ltd. (IAM) is Ireland's largest Air Cargo General Sales and Service Agent (GSSA), responsible for over 20 percent of all airfreight traffic from Ireland.
Now a father and son team, IAM serves American Airlines, Etihad, Air Canada, All Nippon Airways, and South African Airways.
Sean's career began in the 1950s at Seaboard World Airlines (his first airline job).
He later moved on to Brinks (who he introduced to Ireland) and Aer Lingus commercial cargo, where he was responsible for the establishment of the highly successful cargo operation in Ireland and Europe.
Between 1960 and 1964 Sean participated as an Aer Lingus Executive on the Marketing Committee of the Confederation of Irish Industries.
Sean is a founding member of the Irish Air Cargo Institute and the Irish Institute of Freight Forwarders (IIFA), where he was awarded an Honorary Fellowship for service to industry.
He is a former Council member of FIATA, the Irish Exporters Association, and a past VP of the European Confederation of National Freight Forwarders' Associations (C.L.E.C.A.T), a consultative body to the EU Commissioner of Transport.
"My first airline job was at Seaboard World Airways, the pioneering all cargo airline that served Ireland from New York," Sean recalled.
"I was responsible for both sales and operations and on call around the clock," he said.
"I'd call the cargo terminal from home every morning before the night shift left to make sure the transfers had been made.
"Sometimes, after the flight came in, I'd get a call in the middle of the night and go out to the airport to help sort the shipments.
"It was all-hands-on-deck back in those days," Sean remembered.
"On the sales side, I spent a lot of time contacting forwarding agents here in Ireland.
"There weren't too many of them back in those days," Sean said.
"I would also spend several days a month out on the road converting surface to air.
"That was tough work and could take months, maybe even a year before a shipper would even pay the slightest interest.
"It was the toughest kind of selling," Sean McCool recalled.
Geoffrey