Vol. 15 No. 82 – Air Cargo News.com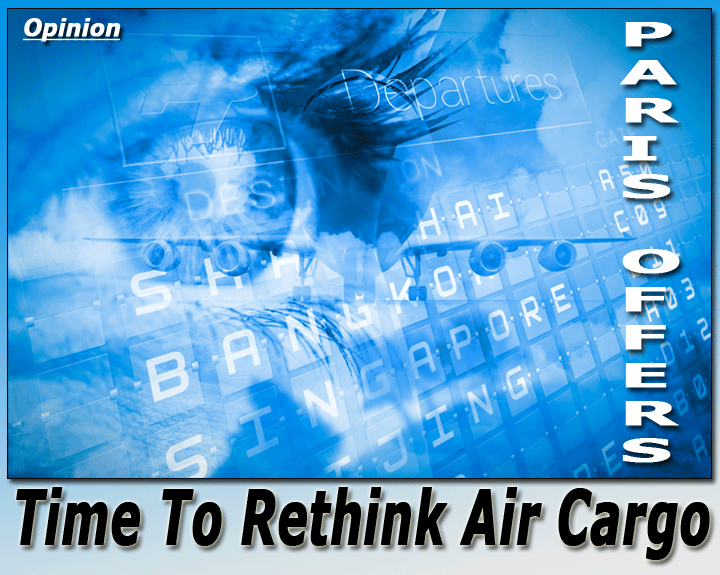 Editors Note: As noted here, TIACA ACF 2016 meets in Paris next week. Undoubtedly, plenty of bright ideas and big thinking will run up and down the halls of the Port de Versailles Expo Center, the showplace for the event.
But before all of that begins, here are some thoughts to jumpstart the conversation and networking, advanced by some air cargo veterans and smart thinkers gathered under the banner of The Boston Consulting Group, a global management consulting firm and advisor on business strategy.
More: www.bcg.com[1]
In recent years, air cargo industry profitability has experienced the ups and downs of the global economy, disruption by new players, and changing customer demands. Cargo volumes and prices saw a low point during the financial crisis and although volumes are recovering, yields remain depressed.
This in turn has resulted in many mixed airlines prioritizing the passenger side of business even further, and therefore limiting investments in cargo. The combination of disruption and customer value drivers changing with lower (and in many cases misplaced) investments led to many airlines falling behind, dragged down by obsolete business models and paradigms.
Before we look to what the future holds, let us step back to the late 1990s, when airlines, both mixed carriers and all cargo carriers, focused on building global networks dominated by their own metal flying the skies from European hubs to Chicago to Shanghai and Nairobi. This was an asset-heavy business model and airlines plowed billions of dollars into new and converted aircraft, keeping the production lines at Everett and the passenger-to-freighter conversion lines booked years into the future.
In this context, airlines used their global networks and price as levers to grow volumes.
Growing demand and a stable yield environment resulted in several good years, but as the industry conditions changed for the worse, the air cargo industry was caught flat-footed and the downside of this asset-heavy business model became all too clear. Increased volatility in the market led to major operating difficulties, yield and volume drops, and ultimately heavy losses. Bankruptcies and massive restructuring followed, which saw many of the venerable names in the industry either disappear or dramatically changed in terms of business model and commercial approach.
Moreover, as belly capacity grew with the introduction of new aircraft types with 'big bellies,' prices came under additional pressure as cargo was effectively offered at marginal cost.
Belly capacity quickly captured market share in many trade lanes under this competitive pricing advantage. Carriers heavily invested in freighters were at times slow in recognizing this shift and continued relying on network and geography as key barriers to entry. The emergence of Middle Eastern carriers proved this paradigm wrong based on price competition and rapid capacity growth in both belly and full freighter aircraft, with high quality of service.
While pricing pressure remains for general cargo, higher margin products present opportunities.
For example, Pharma companies are willing to pay premiums for live monitoring and proactive adjustment of cargo conditions. New investments are already fulfilling the needs of this segment, such as integrators launching dedicated white glove Life Sciences and Healthcare products.
Others such as large network carriers are catching up with heavy investments in state-of-the-art facilities for temperature-controlled cargo in their hubs. Pharmaceuticals are just the frontrunners, however.
Soon special demands, especially with regards to tracking, customization, and convenience will become the norm for general cargo as well.
Carriers who fail to recognize the need for investment in technological and digital capabilities will miss the opportunity to capture this emerging market and its pricing premiums, and risk falling further behind.
Newer disruptions go beyond simple evolution of the traditional air cargo business model. External players have stepped into the air cargo playing field by integrating the value chain and taking air cargo shipping into their own hands.
E-commerce is one such example; carriers took for granted its growth as a reliable opportunity to increase air cargo volumes. However, barriers between B2B and B2C are increasingly blurred as Amazon has taken a significant lead on this front with an aim to own their supply chain and no longer rely on traditional carriers.
Initially, the air cargo industry was under the impression that Amazon was solely using freighters for high density routes. But seeing as they now have contracts for up to approximately 60 aircraft, have assembled a formidable ground operation in all densely populated areas of the U.S., and have bought no fewer than three freight forwarders and trucking companies in Europe, it is becoming increasingly apparent that an attempt to get leverage has resulted in becoming the fourth largest integrator, and they are growing at a much faster rate than the Big 3.
Similarly, a startup called Flexport, whose mission is to become the Uber of freight forwarding, recently secured USD 65 million in funding after 2 years of trying to shake up that part of the value chain.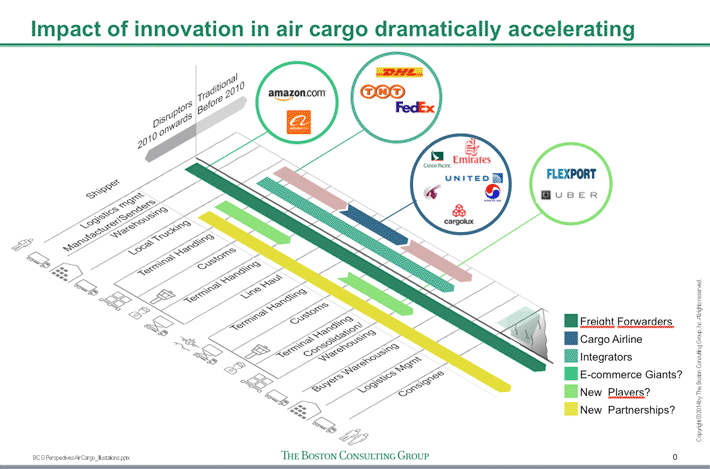 Some examples of potential disruptions in the air cargo value chain.

In the face of all this turmoil, the air cargo industry has been surprisingly satisfied with the status quo, as the industry has made very little real progress in embracing technology and new paradigms that leverage new technology. Aren't we still trying to fully implement Cargo 2000?
The difference today is that there are a great number of smart people sitting outside the industry who fully realize the disfunctionality and therefore the opportunity to disrupt.
Whether it is the example of Amazon trying to control its own destiny and at the same time becoming the third largest integrator in North America, or Uber eyeing the massive opportunity that exists in owning the last mile, the next generation of innovation will force real change in the industry.
As the graphic below illustrates, the industry has been quite static in terms of the business model since its inception, but the next five years will see more innovation and disruption than the previous fifty years combined. We believe that some current players are realizing this coming wave and have found a way to embrace it.
For example, IAG's launch of their "Hangar 51" initiative invites entrepreneurs from outside the industry, giving them the opportunity to incubate their ideas in a fast-track environment with the stated goal of "transforming aviation and revolutionizing the customer experience." While the passenger division is leading Hangar 51, the cargo side of the business plans to leverage it as well. Innovation is not something to be feared, but rather embraced, since it opens up more opportunities to better serve the customer base while earning higher yields at a lower cost.
In order to avoid getting left behind, we believe airlines must focus their investments on digital, product, and service improvements, instead of aircraft.
The aspiration should not be size and volume, but rather understanding the underlying needs of customers and anticipating and participating in the trends they create.
We believe there may not be a magic bullet, and instead recommend that airlines try and learn through targeted partnerships and small investments. Deep customer research, as illustrated below, such as which flows or commodities are most likely to grow through e-commerce, will serve airlines well to identify the most strategic opportunities.
Carriers need to focus on creating the right product and the right mode of interaction with their customer and build the organizational, operational, and digital capabilities to support it. A great part of this paradigm shift is creating a culture that promotes and rewards risk taking and trial and error to enhance nimbleness and reduce complexity.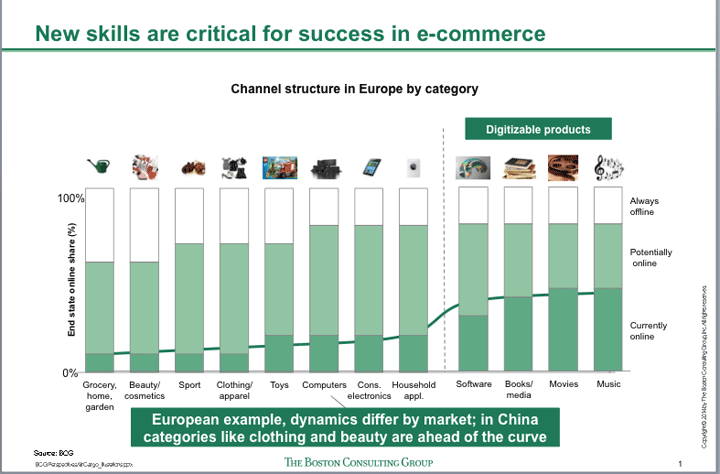 Estimated share of online distribution for select categories

BCG believes supporting our clients in this endeavor creates significant opportunity and value.
As part of our airline practice, we are striving to become the leading air cargo advisor, bringing our clients our unique combination of strategy, industry, and functional expertise.
We are uniquely positioned to leverage our deep experience in the cargo, aviation, and industry sectors (e.g. pharma, e-commerce, etc.) with our world class digital, big data analytics, and operations capabilities.
We look forward to discussing these perspectives at TIACA's air cargo forum.
Fernando Bosch, Neel Jones Shah, Peter Ullrich, and Dirk-Maarten Molenaar
Boston Consulting Group
References

^ www.bcg.com (www.bcg.com)