Cargo Bikes: A Two-Wheeled Enlightenment
The classic bakfiets is the perfect family vehicle. Photo by Hilary Angus Bikes have become an everyday part of my life.
I know how to dress, how long it's going to take me to arrive on time, I know where to park, and I know I will have some time to myself to reflect on the world that seems turned on its head every morning. When biking is not an option, trying to figure out how to get to and from places becomes a real drag. Some of the reasons that come up include bad weather, a lack of safe bike parking, an unreasonable distance, and the need to carry more than your laptop and lunch.
In 2007, I was introduced to Ben Sarrazin of Yuba Bikes[1] and Ross Evans of Xtracycle[2]. On my first visit to Oakland, CA in 2008, I stopped by the Xtracycle headquarters and purchased a Free Radical to attach to an old Bridgestone frame. My eyes were opened to cargo bikes then and now I can't help but marvel at how they are slowly changing lives, one bicyclist at a time.
Why you could consider a cargo bike Your everyday bike gets you to and from work, fun activities like meeting up with friends, grabbing a coffee, or even going to the gym. But often you have more stuff to haul.
Sometimes it's work related: a projector, marketing materials, sports equipment, or swag for an event. Maybe you've added some kids to your crew and are piling on their knapsacks, school projects, extra sweaters, snacks, and even their bikes because they're too tired to ride home. Cargo bikes are perfect for those who regularly do heavy hauling or are responsible for transporting others.
In North America, the quintessential "soccer mom" is pictured driving a minivan but in the Netherlands she rides a Bakfiets[3]. For trips of 5 miles (8 kilometers) or less, cargo bikes are the most suitable family vehicle and the most affordable work truck. Businesses can greatly reduce their transportation costs by switching their company cars for company bikes.
The evolution of cargo bikes The first cargo bicycles appeared during the smoggy days of the Industrial Revolution, soon after the safety bicycle arrived in 1885. Technological and material advances allowed for an explosion of experimentation and innovation.
The late nineteenth century had its own energy crisis; before the first derricks were set up in 1859, fuel was horse, oxen, coal, and whale blubber. The invention of the Bessemer steel making process dramatically reduced the price of steel. Combined with the invention of the pneumatic tire in 1888, this set the stage for the bicycle revolution.
During the 1880's and 1890's there were hundreds of bicycle innovations and patents. The first cargo bikes were used by workers to deliver wares such as milk, bread, meat, and mail. In one of its most popular incarnations, the cargo bike featured a smaller, front wheel with a durable, front rack capable of bearing heavy loads – a form which has endured as the "Baker's or Butcher's Bike." In the 1920's the Long John Bicycle was developed in Denmark.
Since a box could be added to the Long John, cargo bikes then entered the mainstream as a way to transport children as well. In recent history, American cargo bike maker Xtracycle invented the longtail, a cargo bike which rides more like a regular bicycle.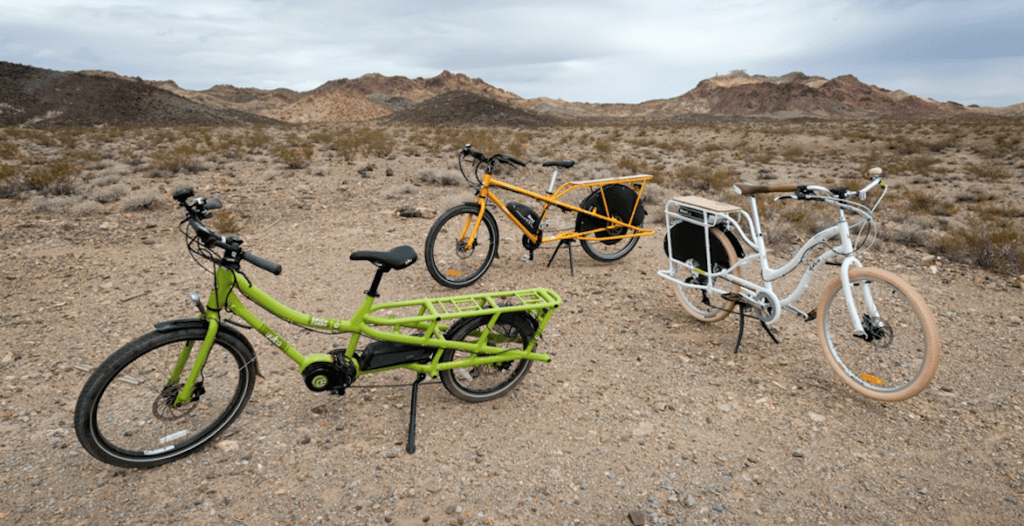 Three electric cargo bikes from Yuba. L-R: The Spicy Curry, the elMundo, and the elBoda Boda V3. Photo by David Niddrie
Electric cargo bikes Cargo bikes are amazing and, when built well, you can barely feel the difference in handling between them and a regular bike. However, when you're loaded up and going up a hill, that's when you'll start to consider electric assist.
Currently, Yuba Bikes[4], Xtracycle[5], Pedego Electric Bikes[6], Radwagon[7], Felt[8], Babboe Cargo Bikes[9], Johnny Loco[10], and Douze Cycles[11] have built-in electric assist cargo bikes. Or, if you already own a cargo bike and you want to add electric assist to it, you can by purchasing a conversion kit, which will likely be a hub motor and a battery. Expect to pay £1,500-£2,500 USD more for a purpose-built electric cargo bike.
Bear in mind, electric cargo bikes are substantially heavier than regular cargo bikes. If you're considering purchasing one, it might be a good idea to get used to riding a fully-loaded cargo bike first before doing that on an electric one. However, e-cargo bikes with a throttle option help balance out the initial wobbly handling that can result from a slower start due to the extra weight, especially for smaller riders.
How to buy a cargo bike Test ride, test ride, test ride. The best way to start looking for a cargo bike is to ride as many models as you can – different cargo bikes will have different comfort levels, depending on your size and experience.
If your local bike shop doesn't carry cargo bikes, look into resources provided by your local bike advocacy organization to see if they run test days. You can also look for online cargo bike groups or family biking groups in your area (usually a Facebook group) which offer owner advice on the types of cargo bikes well-suited to your environment. They are a handy way to arrange meet ups to test ride others' bikes, too.
You can also find local cargo bike group rides or meet ups and tag along on your regular bike as a way to learn about new models and meet members of the cargo biking community. Once you've selected a model, contact your local bike shop to see if they'd be willing to bring it in for you. You'll want to work with a bike shop for setup, maintenance, accessories, and general advice.
This has the added bonus of letting shops in your area know that the demand for cargo bikes exists. If your bike shop won't bring one in because they're afraid you won't buy it, consider companies like Wike[12], Yuba, Xtracycle, and Cetma[13], which sell online throughout North America. Things to keep in mind
Cargo bikes will change your life but before you hop on, there are a few things you should consider. When you're riding in a bike lane, look out for bollards and dividers – you'll suddenly be a wide load. This also means that if you live in an area with limited or no safe cycling infrastructure, you'll want to go with a longtail bike rather than a wider Bakfiets.
Cargo bikes don't fit on the front of buses. In the case of a breakdown, you'll need a way to take it to the bike shop, such as access to a truck – yet another reason to have a local bike shop bring it in for you. You'll probably want two locks including a large chain lock to lock to poles and trees since you usually won't fit into regular bike racks.
You also need to make sure you have a secure place to store it – cargo bikes aren't ideal for apartment-dwellers who lack secure storage options. The exception to this rule is the recently released Cargo Node[14], a collaboration between Tern[15] and Xtracycle which offers the carrying capacity of a long tail cargo bike with the urban functionality of a folding bike – the world's first cargo bike that fits in an elevator.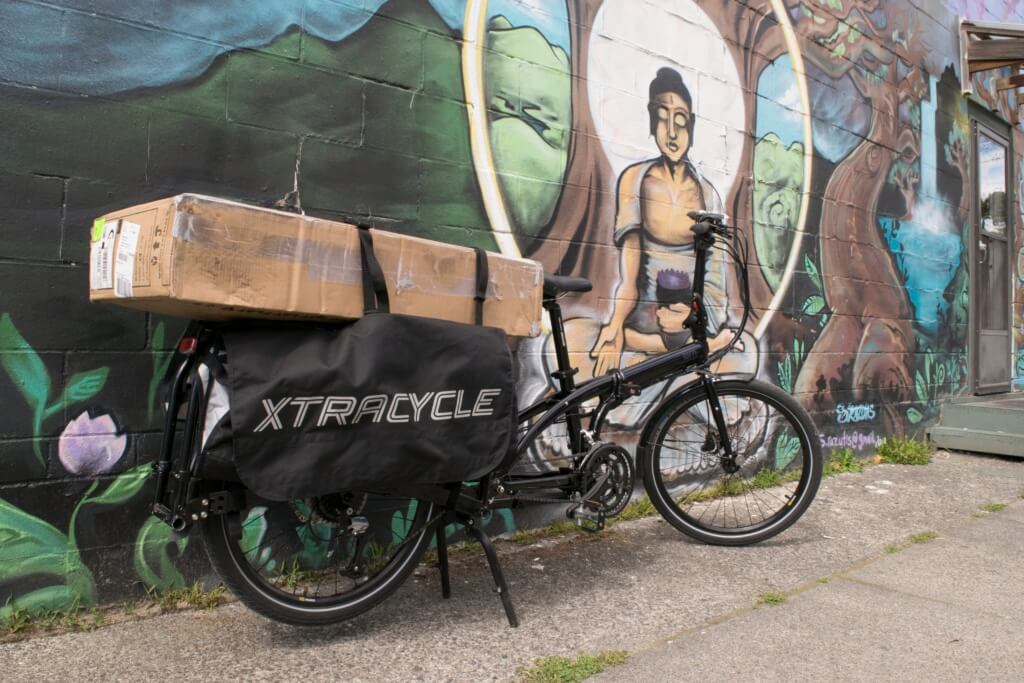 The Tern Cargo Node is the world's first full size cargo bike that folds down small enough to fit in an elevator.
Photo by Hilary Angus A word on accessories Make sure you have a good kickstand – a sturdy double kickstand is the way to go.
Invest in a good lock, maybe even a frame lock. Bags: decide if you want removable bags or sling bags that remain on the bike. Check if these items are included in whichever model you're looking at.
Some companies include bags in the price of the bike, while others will charge a few hundred dollars extra for them. The future of cargo bikes This is just the beginning.
As more people shift to bicycling as their primary mode of transportation and buy cargo bikes, expect to see technological advancements. There is a middle ground between lighter duty, standard, cycling components and heavier duty, motorcycle components. With the emergence of 3D printing and ultra-strong synthetic fibers, there are opportunities for innovation in the form and function of bicycles – cargo and otherwise.
Electrification is here to stay; it will continue to expand the range of where cargo bicycles are viable. More and more small businesses and logistics companies will start to see the benefits: operating costs, insurance requirements, and rising capital costs of fleets will drive businesses to look for better solutions to gas-powered vehicles. Movement of goods by large vehicles will be reduced to the outskirts of cities and congestion.
As a parallel network of bicycle lanes emerge, businesses will find that cargo bicycles can have similar carrying capacity, operate faster, and improve employee health & wellness. In the context of the last phase of human migration into cities combined with a low carbon future, I'm certain that the cargo bicycle will be a significant part of urban transportation around the world.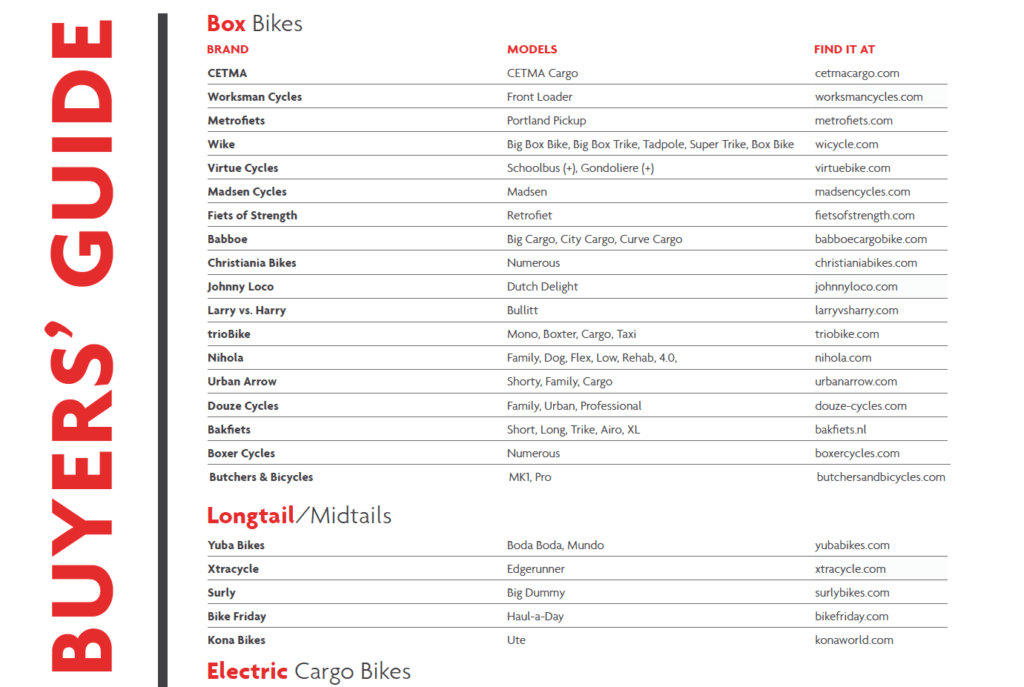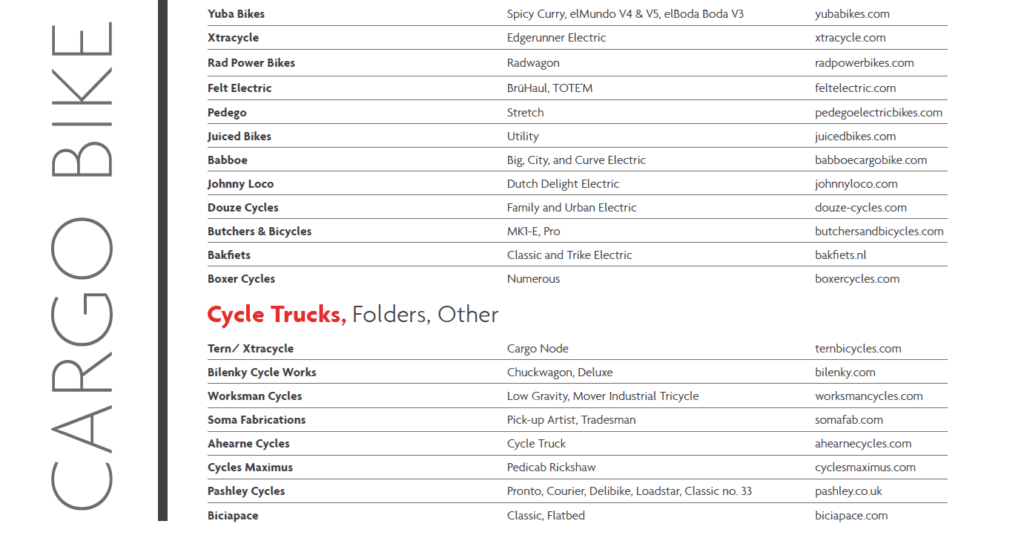 ____________________________________________________________________________________________
Tania Lo is the co-publisher of Momentum Mag. She gets around – and out of – the city by cargo bike. @tania_lo
[16] ____________________________________________________________________________________________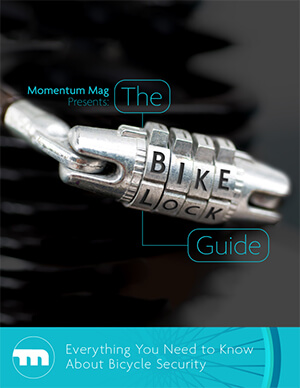 Get your FREE copy of: Momentum Mag's Bike Lock Guide

In this guide, we share stats on bicycle theft, the best ways to lock your bike and which ways to avoid, types of locks to use, new technologies combating theft, a directory of brands and much more!
Get My FREE Guide
Please select your country and provide a valid email address
This is a sponsored guide. Your email address will be shared with ABUS.
Please read our Privacy Policy[17].
Thank you for your submission.
Please check your inbox to download the guide!
More from Momentum Mag

References