FROM MAGAZINE: Perishables fly fresh from Africa
Over the years, Africa's horticultural and floricultural produce has gained popularity in the international markets due to the quality and variety that the continent has to offer. While there is tremendous potential for the air freight industry for the transportation of perishables, there is an increasing need for African countries to upgrade and invest in better cool chain facilities.
Twinkle Sahita

The world's appetite for fresh products is growing, owing to constantly changing consumer behavior in Western countries and rising incomes and increasing populations. The perishables industry is generally recession proof.
Even during crisis times, when imports tend to diminish as consumers spend less, the demand for perishables, particularly fresh and frozen meat and fish, fruit, vegetables and dairy products, is high.
Imagine a perishable reaching to the destination with its freshness lost. Time is of the essence to ensure perishables such as flowers, fruits and vegetables, fish, meat, and other products reach their destinations without losing its shelf life. Success in the perishables industry depends on a logistics provider that can ensure products are safely and efficiently steered through the cool chain on the way to their final destination.
This is where air freight plays a key role.
Transported volumes in the perishables industry are growing year on year, while they stagnate or shrink in other industries.
Amongst all the economies of the world, the emerging economy of Africa is a major perishable market. Kenya's flower business, for example, is flourishing, with expected annual export growth rates of around 5 percent. We are seeing regional differences in perishable trends across markets in Africa.
In East Africa, where the majority of perishables are horticultural and floricultural; we are seeing a movement from where previously buyers would converge in Amsterdam and auction there, to countries buying directly from farmers in Kenya. This presents a substantial area for growth as logistics channels are streamlined to facilitate these new purchasing habits.
There is also growth in perishable volumes from South Africa. Rather than the perishables trade having only one significant peak over the course of a year increasingly, there are consistent high volumes through the year, supplemented by the traditional boom in peak season.
"Whether moving resources from the continent or bringing goods and services into its booming economy, there is tremendous potential for air freight in Africa, especially West Africa and Central Africa.
We are seeing increasing volumes in the transport of perishables like fruits, vegetables, fish and flowers with flowers being the most exported commodity. The intra-Africa trade is also very important and offers good opportunities for air cargo transport," explains Ulrich Ogiermann, chief officer Cargo, Qatar Airways. Qatar Airways Cargo has scheduled freighter operations to Khartoum, Djibouti, Entebbe, Nairobi, Accra, Lagos and Johannesburg and carries belly hold cargo to twenty two destinations in the African continent. "We transport over 700 tonnes cargo each week to and from the African continent mainly to United Kingdom, Amsterdam, Central European destinations, Middle East, China and Australia."
"Africa is one of our largest perishable export markets.
The volume of perishables exported from Africa grew 4 percent in the first half of 2016 compared to the same period in 2015, demonstrating the continued growth from the region," says Daniel Johnson, IAG Cargo's manager of global products, and Tony Snell, Regional Commercial manager Middle East and Africa, IAG Cargo.
"We carry a wide variety of African- grown fruit and vegetables with berries the largest single commodity type noted this year. Generally shipped between Africa and to the UK or the USA, fresh-cut flowers and yams followed berries as our most significant exports from Africa."
Each year, in average, Lufthansa Cargo, transports approx 10,000 tonnes of fresh fish and seafood, approx 25,000 tonnes of fresh fruits and vegetables, approx 20,000 tonnes of plants and flowers including approx 35-40 million roses each year just for Valentine's Day.
"With Fresh/td, we offer a product that meets the special needs of perishable goods. A predominantly temperature-controlled environment during flight and storage, and specially trained personnel, make sure that perishables arrive freshly," says Hermann Zunker, director Africa, Lufthansa Cargo.
"Changi's air cargo volume from Africa grew 3.2 percent year-on-year to 10,500 tonnes during the first eight months in 2016.
Perishables from Africa grew strongly, registering a 30 percent year-on-year growth, albeit on a small base," said PHAU Hui Hoon, Assistant vice president, Cargo & Logistics Development Division, Changi Airport Group.
For major Asian hub, Changi Airport, perishables are a niche growing segment which has seen an increase of 13 percent (January to August 2016) year-on-year. Two Airlines (Singapore Airlines and Air Mauritius) offer over 20 weekly flights to and from four cities (Nairobi, Mauritius, Johannesburg, Cape Town) in Africa, with a weekly capacity of about 280 tonnes.
Freight forwarder Panalpina that acquired a majority stake in air freight forwarder Airflo from the Dutch Flower Group in January 2016 has an increasing focus on perishables business especially in the African continent. "Out of Kenya, we roughly fly 50,000 tonnes of perishables per year, mostly flowers. From South Africa, we export some 15,000 TEUs, citrus and stone fruit as well as grapes being the primary products," informs Colin Wells, Global head Specialty Vertical Perishables, Panalpina.
Panalpina has also begun handling perishable air freight imports at Amsterdam Airport Schiphol starting September 1, 2016. At the location of Freight 18, Panalpina will receive the shipments directly from the platform, and completely handle them using the new cold stores.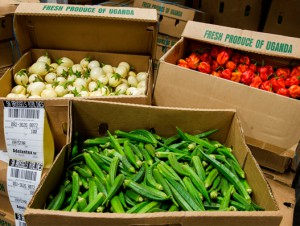 "We fly and handle about 2,000 tonnes of perishables to Africa (about 18 percent of our total cargo volume) and 12,000 from Africa (more than 90 percent of our total cargo volume)," said Reinout Puissant, Cargo Business Development manager, Brussels Airlines.
Luxembourg based all cargo carrier Cargolux also has been dealing in the perishable business from/to Africa for many years. "Vegetables are certainly the number one commodity that we ship from Africa, followed closely by flowers. We have also increased our vegetable shipments from Europe to the Middle East significantly," informs Jonathan Clark, Regional director Africa, and Stavros Evangelakakis, Global Products manager, overseeing perishables, Cargolux.
Air France-KLM-Martinair Cargo (AFKLMP Cargo) is running a continuous improvement programme on the cool chain for flowers and perishables.
In that respect it is working closely together with 'Schiphol Airport Group', 'Royal FloraHolland' in Aalsmeer and other stakeholders. Various improvement initiatives have already been implemented following this cooperation and this, amongst other differentiating factors, has given us a competitive advantage over our direct competitors.
"AFKLMP Cargo continuously assess opportunities, also in coordination with our Joint Venture Partner Kenya Airways. At the moment, we are assessing a few options together in order to further expand our joint footprint in Africa.
We will also review the opportunity to potentially add 1 more frequency via Nairobi (NBO) of our KLM Cargo Full Freighter (operated by Martinair Cargo)," informs Noud Duyzings, AFKLMP Cargo Regional Market manager in East Africa.
Europe-Africa trade
Europe still remains the major consumer of African perishables and this is unlikely to change in the coming years. Last year, the perishables volume from Africa into EU grew by around 5 percent. A similar growth rate is expected this year.
The air cargo community finds great potential on Europe-Africa trade.
"There is a lot of potential for growth in this domain, and we do great efforts to stimulate the market, which creates more employment locally. There is room for growth on both sides of the spectrum: on the one hand, we incentivize and advise small local growers and startups to initiate crops that are known and commonly grown. These are usually locally consumed vegetables or fruits for which an emerging market exists in the African diaspora communities in Europe.
These small growers in Africa often do not realise they have such a unique selling proposition. We help them connect the dots by bringing them in contact with European buyers. In The Gambia for example, our number 1 customer works with small growers since 2001 and has quickly become the biggest employer in the country.
They have done a tremendous work in the past 5 years and all the babycorn they ship, now comes from these growers."
"On the other hand, the demand for high end tropical fruits is increasing. There is a lot of potential for Africa in this business, because currently these fruits are grown in other parts of the world. If the quality of the product can be guaranteed, the good climate and fertile African land can do the rest.
In that respect, we also try to lobby to stimulate this. At Brussels Airport an organisation called Air Cargo Belgium has been founded which assembles all cargo players at the airport. One of their tasks will be to do further market research in this field, in cooperation with organisations like Fresh Trade Belgium.
We hope to further develop the market from there," adds Puissant, Brussels Airlines.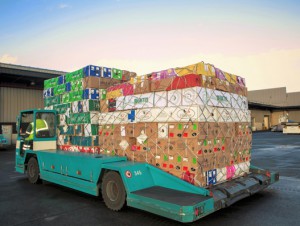 Perishables handling at Luxembourg Airport
One of Europe's largest air freight hubs, Luxembourg Airport, expects a total volume of 30,000 tonnes including all kind of perishables from flowers to meat to fruits and vegetables for 2016. The volumes however remain seasonal and volatile as mainly dependent from available capacity by the carriers on the different routes. "The potential growth of perishables from Africa to Europe depends partly from the overall economic situation even though the growth of the perishables business worldwide is proved to be linked to the evolution of the population. As long as the middle class can afford less cheap but exotic import food, there will be a market.
We assume that Asia will most probably see a bigger growth than Europe due to the emerging middle class. Still Africa is and will remain the first provider of perishable produces to Europe," said Laurent Jossart, executive vice president of LuxairCARGO.
Liege Airport handles daily freighters from Africa's main perishable export markets, Kenya and Ethiopia.
"We are happy that both Ethiopian Airlines and Astral Aviation have designated Liege Airport as their European hub," says Steven Verhasselt, VP-Commercial, Liege Airport.
"The market is developing well, and we believe growth can continue. We are most impressed with the Ethiopian Airlines project at Addis Abbaba, where the new perishable centre is to be a major source of African perishables entering the European market via Liege.
We hope the growth in Liege continues at the same pace, growing more than 5 percent per year. We also believe there are opportunities for African perishable to grow in new markets, especially Middle East and Asia. These markets can be reached direct, or via the European hub."
Perishable goods are optimally taken care of at Frankfurt Airport in the Perishable Center Frankfurt, Europe's largest air freight centre for perishable products.
On an area of 9,000 square metre, it has 20 monitored temperature zones from -24?C to +24?C. Fast handling is guaranteed as all relevant authorities are directly located within the building and of course it is GDP-, IFS-, and CEIV-certified. On the apron, temperature-controlled transport is possible using dedicated vehicles.
"In order to offer even faster processes, as well as greater reliability and improved services, we are digitising our processes at Frankfurt Airport.
We started pushing forward digitisation at FRA with the launch of [email protected] The system enables the electronic exchange of data between participating companies. Today, [email protected] represents one of the most advanced cargo community systems at any airport worldwide."
"At the moment, we are also digitising the perishables process by including the government agencies into the system.
The German Customs' system is already linked to [email protected] and we have just begun to integrate the local EU border checkpoints for plant protection and veterinary examinations as well as the German Federal Office for Agriculture and Food," said Dirk Schusdziara, Fraport AG's senior vice president for Cargo.
Modal shift from air to ocean
Currently, the biggest challenge for the air cargo industry is to maintain its current volumes.
This is because many types of fresh fruits such as different berries and various vegetables are transported by ocean. Shipping lines are opening new routes serving perishable-producing markets. Also, there are improvements in refrigerated sea container technology so that the shipment is not exposed to temperature fluctuations during the transport.
Infrastructure is a challenge
The fact that the temperature changes pose serious threats to integrity of these sensitive products that have a big share of the tonnage volume transported has required to establish more complex but more reliable methods in air transportation.
To that end, special equipments, adequate infrastructure and storage facilities, compatible handling procedures are some elements of the entire cold chain that are very important.
"We have seen investment in some countries in Africa towards better and more efficient cold room facilities, particularly in Kenya. But in large parts, Africa needs to upgrade and invest in better cool chain facilities. In many cases, basic handling facilities need to be updated first.
Again, some regions are better than others and we believe that handling agents are aware of what needs to be done," adds Clark and Evangelakakis, Cargolux.