Combi Lift to move tall ship from New York to Germany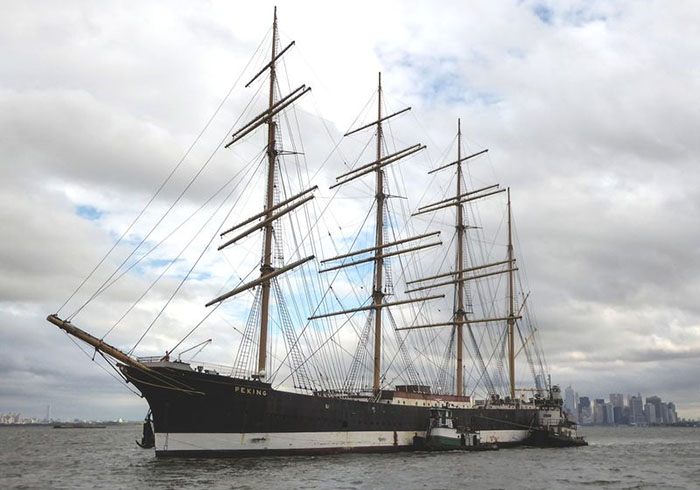 The Peking is leaving New York Harbor for the first time in more than 40 years.
Heavy-lift carrier Combi Lift will use a semi-submersible vessel to move the historic four-masted windjammer Peking from New York to Germany this summer.
The Peking, built by Blohm + Voss in 1911, was one of the legendary "Flying P-Liners" of the German shipping company F. Laeisz. It was one of the last generation of windjammers used in the nitrate and wheat trade around the often treacherous Cape Horn.
The steel-hulled barque's return to Germany at the end of June will mark its last trans-Atlantic voyage.
After being docked for more than 40 years at New York's South Street Seaport, the ship will become the centerpiece of a EUR120 million (£134 million) museum being built at Hamburg.
The Peking was moved to the Caddell Dry Dock on New York's Staten Island last September, but extensive repairs and maintenance will await the vessel's arrival in Hamburg.
Combi Lift's 11,000-deadweight-ton semi-submersible vessel Combi Dock III will carry the tall ship to Germany.
The Peking has a length of 115.5 meters (379 feet), a beam of 14.3 meters, a draft of 4.2 meters draft, and gross weight of 3,700 tonnes.
"It is not particularly heavy relative to, say, a military vessel. But it is long and fragile. It has three to four millimeters of hull plating left at the waterline, out of an original thickness of 15 millimeters or more," said Alexandre Poirier, naval architect and project engineer for the Peking at Stiftung Hamburg Maritim, the Hamburg Maritime Foundation.
Combi Lift engineers will float the sailing ship on and off the vessel. "The ballast tanks will be flooded to lower the cargo deck below the water's surface, allowing the Peking to be moved into position for loading.
It will be loaded stern first," said Peer Kelch, chartering manager at Combi Lift.
"The tanks are then pumped out, and the deck rises to shoulder the load," Kelch said. "The various tanks can be pumped separately to balance the cargo. After sea-fastening with more than 70 bottom and side support structures, the Peking will be carried piggyback across the Atlantic Ocean." Loading and sea-fastening in New York is estimated to take three to four days, followed by a trans-Atlantic crossing of about 12 days.
The tall ship will be restored by Peters Werft in Wewelsfleth, Germany.