Transport Canada's garage: 2003 smart roadster
smart roadster
Here we have another smart. This time it is the Roadster. As the name suggests, it is a 2-door, 2-seater sporty and obviously, economical car. There is also a Coupe that is characterized by a glass hatch over the car's rear quarters. It also has turbocharged 3-cylinder engine. In this case though, it runs on gasoline and it displaces 0.7L. It produces 82 hp and 81 lb/ft of torque. It has the same 6-speed transmission as the forfour and fortwo. The list of safety features is nearly identical to the forfour except that it has rear drum brakes.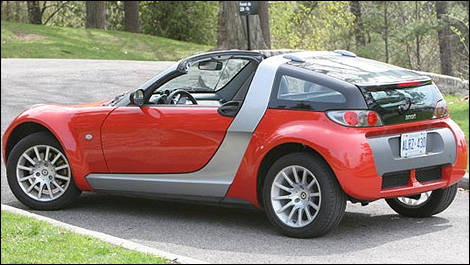 This one is great fun on the road. With a curb weight of only 790 kg or just over 1700 lbs, the Roadster is surprisingly zippy all the while consuming a minute 5 litres per 100 km. The ride is taut and sporty; body-roll is non-existent. The Tridion safety cell makes for an incredibly rigid and responsive chassis. The electric-assist power steering is incredibly precise and it displays impressive turn-in. The Roadster basically behaves like a shrunken MX-5, if there was such a thing. The Roadster features two luggage compartments, one in the rear and one up front.
The Roadster, as well as all smart cars, is available in Brabus trim. With these upgrades, the engine develops 101 hp and is offered with leather seats and an up-rated interior.
(This vehicle is part of Transport Canada's Advanced Technology Vehicle Program)